LOCATIONS AND OPENING HOURS
The offer of services addresses international employees who come to the region Heilbronn-Franken for working and living. The region Heilbronn-Franken is in the north of the federal state Baden-Württemberg which is located in the south of Germany. It consists of the administrative districts Heilbronn, Schwäbisch Hall, Hohenlohe and Main-Tauber. Furthermore we offer advice to regional businesses, institutions and state authorities.
In several locations within the region we offer open office hours where you can come by without having an appointment. In addition to that you can arrange an individual appointment beyond opening hours. Another option is to contact us via e-mail, telephone and skype.
Please move the mouse over the map in order to receive information on the opening hours and the addresses of the different locations within the region.
Municipal and administrative district Heilbronn
Heilbronn
Koepffstraße 17
74076 Heilbronn
Thursdays
09:00 am - 12:00 pm
Main-Tauber District
Landratsamt (District Office) Tauberbischofsheim
Gartenstraße 1
97941 Tauberbischofsheim
House 2, 2nd Floor, Conference Room

09:30 am - 12:30 pm
every 1st Wednesday of the month

Rathaus Wertheim
Mühlenstraße 26
97877 Wertheim
2nd Floor, Conference Room 206

01:30 pm - 03:30 pm
every 1st Wednesday of the month

Volkshochschule Bad Mergentheim
Marktplatz 1
97980 Bad Mergentheim
Room 11

13:00 pm - 16:00 pm
every 3rd Wednesday of the month
Hohenlohe District
Landratsamt (District Office) Künzelsau
Allee 17
74653 Künzelsau
Building A, Room 320
Tuesdays

09:30 am - 01:00 pm
every 1st Tuesday of the month
Schwäbisch Hall District
Goethe Institute Schwäbisch Hall
Am Spitalbach 8
74523 Schwäbisch Hall
Mediothek
Fridays

10:00 am - 02:00 pm
every 1st and 3rd Friday of the month
Rathaus (Town Hall) Crailsheim
Marktplatz 1
74564 Crailsheim
Arcadebuilding, 2nd Floor, Room 2.03 "Bilgoraj"
Tuesdays

02:00 pm - 04:30 pm
every 1st and 3rd Thursday of the month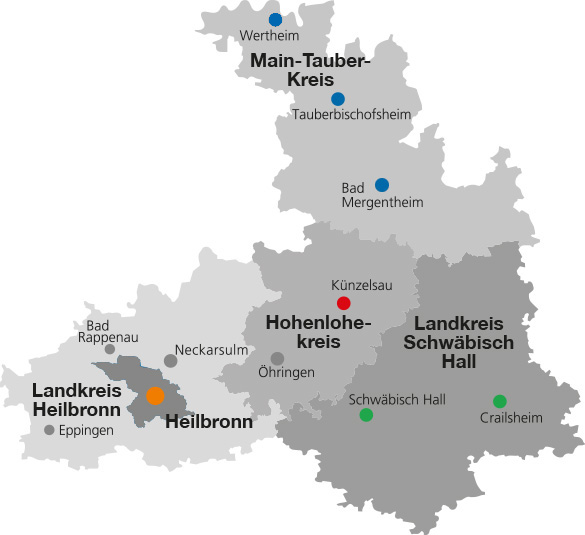 Wirtschaftsregion Heilbronn-Franken GmbH | Weipertstraße 8-10 | 74076 Heilbronn | Telefon 0049 - 7131-7669-860